Grab a Humm-R-Hearth and Help Your Hummers Survive Winter!
The Pacific Northwest is the only part of the whole United States where it freezes and snows yet has overwintering Hummingbirds. The Hummer-R-Hearth is our locally made, right here is Washington, heater that will fit on all Wild Birds Unlimited Hummingbird Feeders. It's a simple, elegant design... Air is gently heated under our WBU Hummingbird Feeders, keeping the nectar from freezing. The housing easily clips to the perch of your WBU hummingbird feeder with an adjustable elastic cord. Powered by a 7 Watt bulb, the 6' long exterior rated electrical cord plugs into your outdoor outlet, extension cord or your holiday lights! Now our Hearts come with a 15 watt bulb too for when temps fall into the teens.
Image courtesy of Napping Bunny Gardens.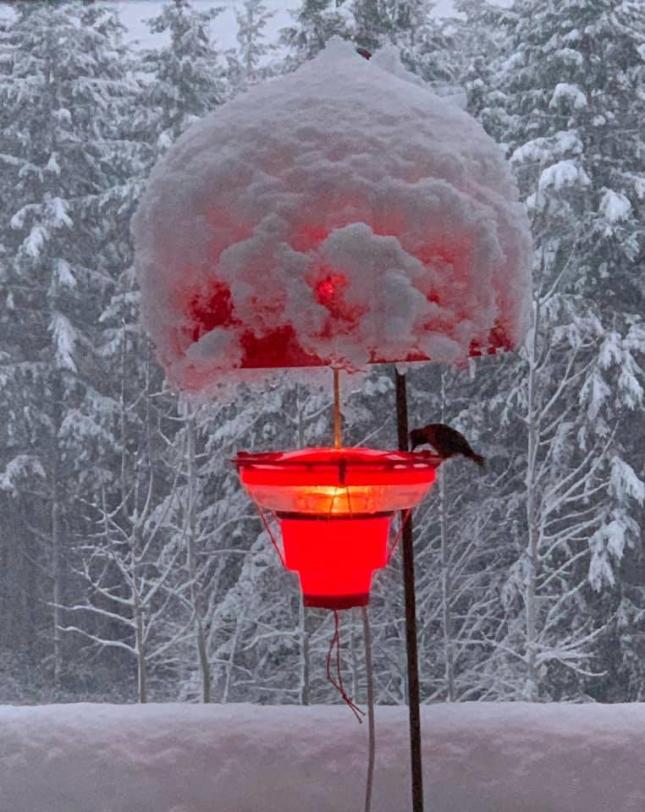 Simple and Easy, the Humm-R-Hearth lets you rest easy (and maybe even sleep in) on these frigid nights knowing that your little feathered friends will be well taken care of.
$43.99 each. Please call the shop to order: 360-797-7100. Humm-R-Hearths ship for $7.99 anywhere in the US
Check out our Humm-R-Hearth at the shop in action last winter. https://youtu.be/TxlRFW8_Q8s
---