Celebrate Spring with the
Wild Bird Rehabilitators of the
Olympic Peninsula.
It's a Baby Shower for the Birds &
You are Invited!
Saturday Feb. 28th 10:30 to 3pm


Gift Registry for the Rehabilitators,
Here's What They Need:
Paper towels, Kleenex, potty pads (human or puppy) laundry baskets, heating pads, small dishes like crocks or ashtrays, Exact Baby Bird food, mealworms, dog or cat food (wet or dry), bird seed (we know where you can get this!), towels, new or gently used wool blankets, vet wrap, clothes pins, bleach, dawn dish soap, hair dryers, play pens, and gift certificates to Walmart or Pet Co. Donations can be dropped off anytime to Wild Birds Unlimited in Gardiner.
Welcome. Let's get started...
...preparing you for the best backyard birdfeeding experience possible. At Wild Birds Unlimited®, our Birdfeeding Specialists are trained to show you how to turn your yard into a birdfeeding habitat that not only brings song, color and life to your home, but also benefits the wild birds and the environment in your area.
WBU isn't just about selling birdfeeders and birdseed. We pride ourselves on being able to give you the most accurate information and knowledge about your local birds.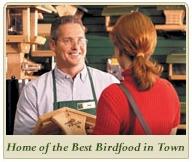 Based on more than 25 years of research and experience, our products have been designed to be the highest quality birdfeeders and birdfeeding equipment on the market today. We're so confident about our designs that many of our products carry a lifetime guarantee.
We're not only proud of our feeders though. We also have the freshest birdseed in town, and we can prove it. Our exclusive regional blends aren't just fresh; they're specially formulated from 100% edible seed that the birds in your backyard will love.
It is our goal for you to have the best possible experience from your birdfeeding hobby. Backyard birdfeeding is the most relaxing, fulfilling, educational and exciting hobby that anyone, young or old, can enjoy.
At Wild Birds Unlimited, we aren't just a birdseed store. We are Your Backyard Birdfeeding Specialist®, here to help bring you, your family and nature together.

Become Friends with Luther on Facebook!
Keep up with all that is happening at the Wild Birds Unlimited in Gardiner, WA by becoming friends with Luther!

Everybody loves birds!