It's Summer Seed Sale Time!! Now through July 31st!


Join us for a night of music & festivities in support of the Northwest Raptor & Wildlife Center and Discovery Bay Wild Bird Rescue for the preservation and protection of wildlife!
Musical Performances by: Buck Ellard, Dead Peasant Society, Jake Reichner, Natural Shapes & Jazmarae (tba). There will be door prizes, a silent auction & more for lots of donated treasures from near and far. Camaraderie Cellars will be on site, pouring wine and we are working on more surprises for the evening! Tickets are $15.00 per person ($10.00 for students, kids 12 & under are free) and will include 2 glasses of wine (for the adults!) from Camaraderie Cellars, cookies for all the kids, access to see all the bands and a fantastic up-close encounter with the educational bird of the Discovery Bay Wild Bird Rescue & the Northwest Raptor & Wildlife Center. Please bring a lawn chair or blanket to lounge in our gardens & relax to the sweet tunes of some very talented local folks, drink the nectar of one of our local wineries and in our own way help save the world.
Come stroll through our beautiful Public Gardens!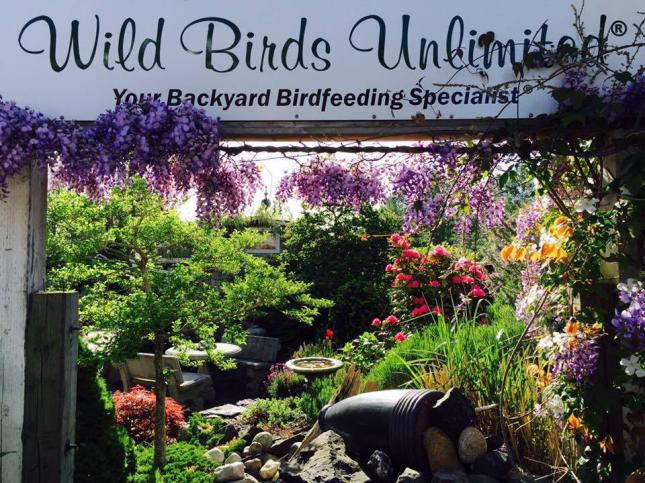 We have a HUGE Hummingbird Population here in
the Pacific Northwest!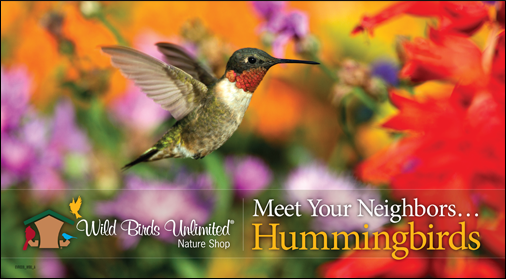 Stop in the Shop and Let Us Help You Set Up for Hummer Season!
We Have:
Great Feeders that are Easy to Fill, & Clean.
Healthy Pre-Made Nectar for Super Convenient Feeding.
Great Cleaning Brushes & Nectar Protectors too!


Just in time for the Hummer Season!!

It's the Perfect Little Feeder for the Nature Lover

The Handy Hummer Feeder! $4.99 each

Place this little beauty outside by your hummer feeder so your Hummingbirds will get used to it and then after a about a week place the feeder in your hand and stand by the feeder with it and watch the magic happen! Hand feeding Hummingbirds is a amazing way to get up close and personal with nature!
Luther SWAG by local artist Amy Weber:
We are So Much More than just a Bird Store!

Become Friends with Luther on Facebook!
Keep up with all that is happening at the Wild Birds Unlimited in Gardiner, WA by becoming friends with Luther!