Upcoming Events @ Wild Birds Unlimited Gardiner

You are cordially invited to our very 1st ever
Adoption Day Party!
Join us on Saturday, September 7th from 11am to 3pm to help us kick off Luther Lassen's Legacy of Fostering Cats in our Shop.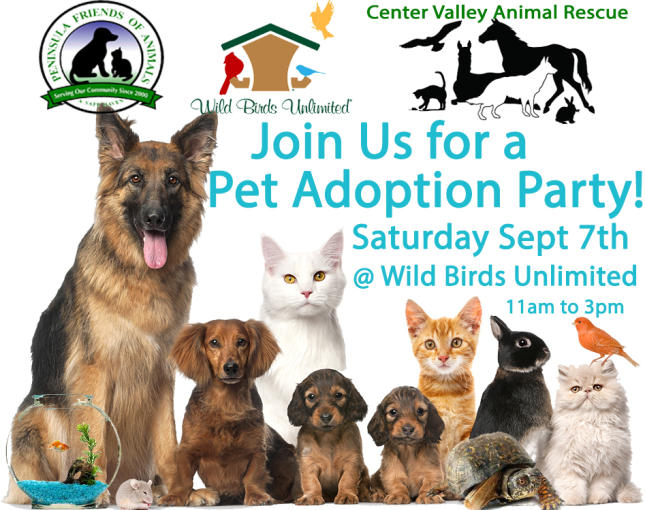 Center Valley Animal Rescue and PFOA will all be here as well with information, fund raising items, and perhaps an animal or two for you to adopt and give a Fur-ever Home. We do have some adoption guidelines you should be aware of. The cats available for adoption from Wild Birds Unlimited will only be allowed into homes that will keep them strictly as indoor cats, promise not to declaw them and have a plan (including a vet) to keep them healthy.
Getting to Know Your Backyard Birds:

That is what local author, wildlife guide and conservation consultant Woody Wheeler is all about! Woody will be at the shop teaching a Getting to Know Your Backyard Birds class on Saturday September 28th from 9am to 10:30am. This fun and educational class will dive into who that little brown job is at your feeder, what birds are present now in our backyards and will include a short half hour jaunt through our lush gardens to see what backyard beauties are hanging out here. Please call to reserve a seat for Woody's class, seating is limited 360-797-711. We are requesting a $5 donation per attendee to benefit Discovery Bay Wild Bird Rescue. Check out Woody Wheeler's latest book Look Up! Birds and Other Natural Wonders Just Outside Your Window while you are here!