Upcoming Events @ Wild Birds Unlimited Gardiner
Join us for a Bat Class - Bats are Boo-tiful! And Important for our Environment!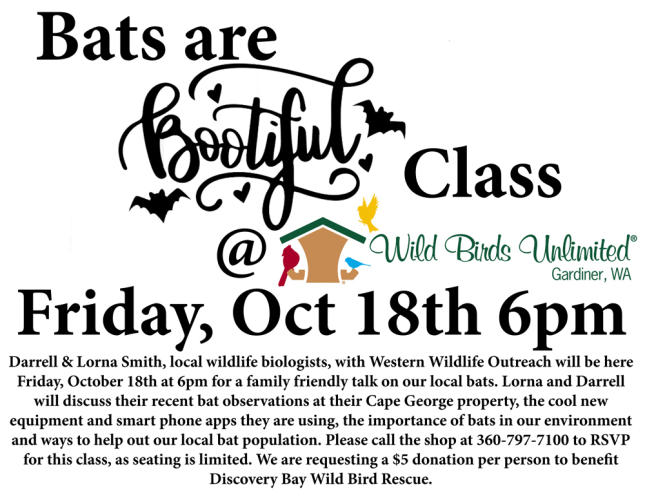 It's time to Celebrate OWL-OWEEN!!
Our 5th annual Owl-oween Celebration will be on Saturday October 26th 11am to 2pm with Discovery Bay Wild Bird Rescue. Stop in and meet DBWBS's Live Educational Owl Ambassadors. Owls of all shapes and sizes will be here at the shop and out in our gorgeous gardens (weather permitting). We will have fun games with prizes for the kids, snacks and great photo ops with the owls for everyone. Rumor has it that Harry Potter will be here too! Please consider bringing a donation for DBWBR as they are a non-profit organization who relies on the support of nature loving people like us to continue the amazing work they do. This years Owl-oween Raffle is one not to be missed - check out the info below on how to be a part of a truly unique Owl Experience. Purchase your tickets directly through DBWBR's website or in our shop!